News
5 Terrorists Shot Dead In 2 Bloody Attacks In Spain, 14 Dead Many Injured, There Was Also A Plan For A Gas Attack, Teenage Driver Suspect Named ! (VIDEOS/PHOTOS)
PHOTOS AND VIDEOS ~ TWO TERRORIST ATTACKS IN SPAIN ! FULL COVERAGE HERE ! 
Barcelona and Cambrils attacks: Police name suspected van driver after five terrorists shot dead - latest news
Second terror attack in Spain at coastal resort of Cambrils
Five terrorists shot dead by police after ramming civilians
Barcelona van attack kills 13; one woman dies in Cambrils
Investigators fear terror cell had planned gas canister attack
Five terrorists wearing fake suicide belts have been shot dead by police after ramming civilians with a car in a Spanish seaside town in a second vehicle attack, as police named a man being hunted as the suspected Barcelona van driver.
One woman died and six other people, including a police officer, were injured in Cambrils - hours after a rampaging van driver left 13 people dead and more than 100 wounded around 70 miles away in Barcelona.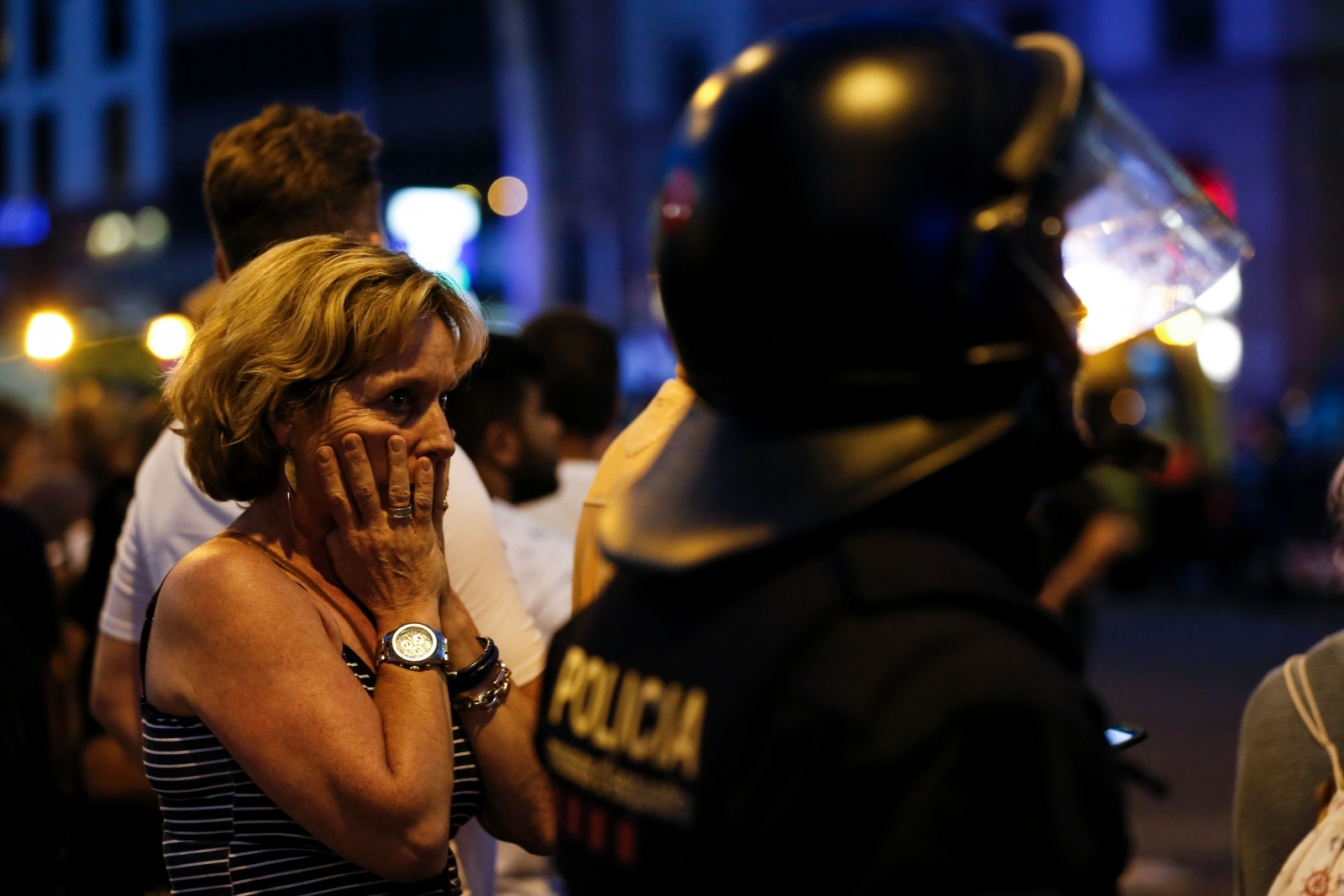 Police have named the suspected Barcelona van driver they are hunting as 18-year-old Moussa Oukabir. He is the brother of Driss Oukabir, a 28-year-old Moroccan who is alleged to have rented the vehicle.
Investigators revealed that a 12-strong terror cell thought to have been behind the two Spanish attacks is believed to have been planning an atrocity with gas canisters.
In Cambrils, holidaymakers ran for their lives as gunfire broke out close to the coastal town's beachfront promenade early on Friday. A British tourist told how families and residents were ordered to take cover as bullets tore through the air in a scene he described as being like "watching a horror film".
The attackers' Audi A3 overturned and the men were fired upon by police when they got out. One was reportedly brandishing a knife. Police said the attackers had been wearing explosive belts, which experts later concluded were fake.
Investigators are working on the theory that the attacks in Cambrils and Barcelona are linked to a gas explosion at a house in the town of Alcanar on Wednesday that killed one person.
A major manhunt for the driver of the van that mowed down holidaymakers and locals on Las Ramblas - a popular tourist road in Barcelona - is continuing after he fled unarmed.
Three people have so far been arrested over the attack, including Driss Oukabir, the elder brother of van driver suspect Moussa Oukabir.
The second arrested man, a Spanish national from Melilla, has not been named. The third person, who was arrested in the Spanish city of Ripoll on Friday morning, is believed to be an associate of Oukabir.
The third arrested man could have been the driver of a car that drove into a police checkpoint on Thursday night, investigators believe.
The Islamic State of Iraq and the Levant has claimed responsibility for the attack, the deadliest on Spanish soil since more than 190 people died in the Madrid train bombs in 2004.
Hero police officer killed four of five terrorists in Cambrills
One Catalan police officer killed four of the five terrorists who used an Audi A3 to plough through pedestrians in the seaside city of Cambrills last night, reports James Crisp.
The officer was carrying out a spot check on a roundabout near the seafront of Cambrils, when the Audi hit four people before ramming into the police car.  One officer suffered a broken tibia and a heavy blow to the head in the collision.
The terrorists' car overturned in the crash. Seeing the terrorists getting out of the car and advancing towards him with machetes and axes, the hero officer shot four of the terrorists.
A fifth fled in the direction of a park, stabbing a passerby in the face with a knife before being gunned down by a police sergeant with a submachine gun, according to La Vanguardia.